There's no question that many individuals are on Twitch watching live stream videos right now.
But just because you're on the platform doesn't mean your brand is guaranteed visibility. Getting started on Twitch as a brand is difficult.
In this twitch marketing guide, we will provide an overview of the basics of Twitch marketing, from what it is, to how to use several marketing techniques to help your brand reach your audience.
So let's get started…
What is Twitch
Twitch, a platform owned by Amazon, is an online space for live streaming and it's most popularly known as a platform for video gaming live streams.
Despite it being used for video game live streams, there are various other categories of live streams that are available such as music, art, esports, cooking shows etc. Additionally, both viewers and live streamers can exchange chats during live streams, making it a very interactive platform to build engagement and a community that feels personal.
It's a great way to connect with friends and others who share your interests, and it's also a great way to make some money.
Why Should Brands and Businesses Use Twitch?
A Number of Specific Twitch Channels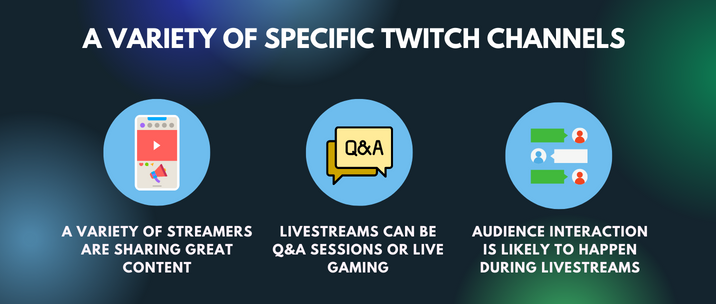 There are a variety of Twitch streamers and channels that are on the live streaming platform that is sharing engaging content with their audience. From hosting an interactive live stream contest to simply doing a Q&A session with their subscribers. Whatever type of content is shared on Twitch, there will almost always be some sort of audience interaction especially if the channel has a lot of subscribers. With this, brands and businesses can choose from a pool of Twitch streamers to collaborate with.
A Highly Engaged Twitch Community
The Twitch community is one of the most active and engaged online communities. It's not only the video game streamers who share video game content that has highly engaged subscribers, but also other Twitch channels that are streaming a different category of content that gain a loyal following. You'll find that Twitch users love interacting with others who share their interests as long as there is a niche for what they love. This makes Twitch a great place for brands to connect with potential customers and build relationships.
Various Twitch Influencers Who Have a Loyal Fanbase
There are various Twitch influencers who have a very loyal fanbase that they've built up over the years. These influencers can be a great way to increase brand awareness and promote your Twitch campaign, as their followers are already engaged and interested in what they have to say.
One such influencer is Ninja. He has over 18.4 million followers on Twitch, and his videos regularly get hundreds of thousands of views. This makes him an excellent choice for promoting a brand or product to a wide audience.
Another popular Twitch influencer is Pokimane. She has garnered 9.3 million followers, and her streams regularly attract tens of thousands of viewers. Pokimane is great for promoting products aimed at younger audiences, take, for instance, her collaboration with Nissin.
Several other Twitch marketing examples include PepsiCo's sponsorship of an off-season tournament in the game Rocket League to promote their new Brisk drink. Another is EA's simple collaboration with RoryPlays, where she promoted the brand and The Sims 4: Cats & Dogs verbally. Rory herself played the game on her livestream, where there was an EA overlay included.
There are many other Twitch influencers with large fanbases, so it's important to do your research and find the right one for your brand or campaign. By working with an influencer who has a loyal fanbase, you can increase your brand's visibility and reach a larger audience.
Marketing on Twitch
Now that you understand what Twitch is, it's important to know how to market on the platform.
There are a few key strategies that can help you get started, which we'll be diving into in this section of the article.
Twitch Ads
Super Leaderboard
If you're looking to get your brand in front of the Twitch audience, the Super Leaderboard is a great option. Your ad will be placed at the top of the Browse section, where users can easily see it.
This ad type supports PNG, GIF and JPG files, so you can create an eye-catching ad that will really stand out. Just make sure you don't try to use an Mp4 file – that won't work. But other than that, the Super Leaderboard is a great way to get your brand noticed on Twitch.
Homepage Headliner
When it comes to ads visibility is key.
You want your brand to be seen by as many people as possible, and you want to make sure that it looks good when it's seen. That's where the Homepage Headliner comes in.
This ad type surrounds Twitch's most premium inventory, ensuring that your brand maintains a high level of visibility. More so, it can scale according to various screen resolutions and display sizes. That means that your brand will always look its best, no matter where it's being seen. And because the Homepage Headliner is surrounded by Twitch's most popular content, you can be sure that your brand will get plenty of exposure. So if you're looking for a way to increase your brand's visibility on Twitch, the Homepage Headliner is the way to go.
First Impression Takeover
According to Amazon Ads"…viewers will see your ad during their first Twitch broadcast of the day. This product is sold on a per day per geo basis and priced on a daily rate."
The great thing about First Impression Takeover ads is that they offer a high degree of visibility and brand exposure. Since they appear on the first Twitch livestream for the day, they're one of the first things that Twitch users see when they login to Twitch. This makes them a great way to reach a large audience quickly and effectively.
Medium Rectangle
If you would like to opt for an ad type that blends well when users scroll through to look for livestreams, you'll definitely want to consider the Medium Rectangle ad.
This placement is highly visible and ensures that your ad will be seen by the majority of viewers. Additionally, the Medium Rectangle ad is a great choice for advertisers who want to use animated assets. These assets are highly engaging and can help to capture the attention of viewers immediately.
Overall, the Medium Rectangle ad unit is an ideal choice for advertisers who want to ensure that their ad is seen by viewers without being too disruptive.
Homepage Carousel
The Homepage Carousel ad is a fantastic way to promote your channel which is why it's better suited for live stream creators to promote their Twitch channel rather than brands. Choosing this type of ad will place your advertisement at the front and center of Twitch's homepage. This may seem similar to the Homepage Headliner ad, except the Homepage Headliner ad is behind the Homepage Carousel, serving as a background ad.
Twitch Premium Video
The best way to reach the widest audience possible is through the Twitch Premium Video package. Your video ads will be played across all platforms, from desktop to mobile, tablet, console, and streaming TV inventory. This is a great way to ensure that your ad is seen by the Twitch audience.
Also, your video ads will be unskippable, as well as shown in pre-roll and mid-roll format, and are clickable so viewers can easily find out more about your product or service. The only downside is that ads on consoles and streaming devices are not clickable, but this is a small price to pay for such extensive reach. Don't miss this opportunity to get your message in front of millions of potential customers with this ad type.
Influencer Marketing
In today's world, influencer marketing is more important than ever. By working with influencers, brands can reach a larger audience and create more awareness for their products or services.
There are a number of different ways to work with influencers. One option is to partner with them to promote your product or service. This could involve having them endorse your product or service in one of their livestreams, or even having them speak at another livestream event.
Another option is to collaborate on content. Influencers can help you create interesting and engaging livestream content that will attract new viewers and followers. In return, you can help promote their content to your followers.
Finally, it's important to be strategic about who you work with. Not all influencers are created equal. You need to carefully select the right influencer for your brand, and make sure they align with your values and goals. When you work with the right influencers, you can achieve great results for your marketing efforts.
To find streamers with more followers that cater to specific types of audiences takes time and effort, but we can help you do just that. In fact, we can help you craft a dedicated Twitch influencer marketing strategy so that you can get your brand out there. Simply Book a FREE session with us today!
Community Engagement
Engaging with your community is important for two reasons, especially if your brand has a Twitch channel.
First, it helps you build relationships with your followers and maximise brand exposure. Second, it helps create a more engaging experience for viewers.
When broadcasters and viewers are engaged in conversations, it makes the experience more fun and interesting. So make sure to understand what makes everyone's favorite streamers achieve success.
One way to engage with your community is by responding to the Twitch chat during your live streams. This allows viewers to ask questions and interact with you directly. You can also engage with viewers by hosting giveaways or contests, which gives viewers something to look forward to, keeping them engaged and coming back for more.
Another indirect means to engage with your community is to be responsive to feedback. If viewers take the time to let you know what to improve on, let's say your lighting or audio quality, be sure to respond promptly and try to follow their recommendations. This shows that you care about your audience and want to create a positive experience for them.
Tips for Marketing on Twitch
Know Your Audience
Knowing your audience means understanding who your viewers are, what they want, and what they are interested in.
If you can create content that appeals to your viewers, they are more likely to stick around and watch. Moreover, knowing your audience can help you better target your advertising efforts.
Produce High-quality Streams
To produce high-quality streams, you'll need to ensure that your viewers can see and hear you clearly. By streaming in high definition and using good-quality audio equipment, you can help ensure that your viewers have a positive experience watching your channel.
Also, by keeping your broadcasts on schedule and avoiding long delays between broadcasts, you can help keep your viewers engaged with your channel.
Use Social Media to Promote Your Stream
When marketing on Twitch, it is important to use social media to promote your streams. This means creating posts and ads that will catch the attention of your viewers and persuade them to watch your stream. You can do this by using eye-catching visuals, catchy slogans, and interesting descriptions.
Additionally, you should make sure to post regularly and keep your social media accounts updated. By doing this, you can ensure that your viewers are always aware of when and where your next stream is taking place.
Have Your Own Branded Channel
As a brand looking to get in on the action of streaming to achieve your marketing goals, Twitch is definitely the place to be. Not only does the platform have a massive audience of dedicated gamers, but it's also the home of some of the world's most popular streamers.
There are a few things you'll need to keep in mind. First and foremost, your branding and marketing strategy should be tailored to fit the audience you are targeting. This means that your branding should be fun and engaging, and it should appeal to their interests.
In addition, you'll need to make sure that your channel stands out from the rest. This can be done by creating unique and interesting content, partnering with popular streamers or hiring a content creator to build on an active community.
Whatever route you choose, make sure that your channel provides something that viewers can't find anywhere else.
By following these tips, you can create a successful branded channel on Twitch that will engage and entertain gamers for years to come.
Create a Brand and Style for Your Channel
To successfully market on Twitch, it is important to create a brand and style for your channel. You should develop a look and feel that your viewers will associate with your channel. This can include choosing a specific colour scheme, using specific fonts on banners, and incorporating certain graphics or designs into your channel.
Furthermore, you should think about the type of content you want to produce and how you want to present it. When you create a unified brand and style for your channel, you can help viewers quickly identify it and know what to expect from you.
Conclusion
As you can see, there are a number of things you can do to market your Twitch channel successfully. By tailoring your branding and marketing strategy to fit the Twitch audience, producing high-quality streams, using social media to promote your content, and having your own branded channel, you can create a successful Twitch marketing campaign that will reach new heights.
Need help with getting started?